Selection and Care of Hydrangeas
- horticulturist and gardening expert
April 6, 2019
You can't drive down a street or visit a garden center without finding one or more hydrangeas dressing up the landscape or filling the nursery lot. These hardy shrubs provide year round interest in the landscape with minimal care so it is not surprising they are so popular.
Your first memories of hydrangeas may be shrubs with big round white flowers in your parents' or grandparents' shade garden. These are often called snowball bushes but don't confuse them with the viburnum that often go by the same common name.
Selecting the right hydrangea for your growing conditions, landscape design and personal taste will insure you enjoy years of low maintenance beauty from these plants.
It's not difficult to find a place for hydrangeas in any size landscape. Tree forms are often used as focal points and accent plants, taller shrub forms make excellent screens or hedges and cultivars with colorful flowers, bark, or fall color help create year round interest in any corner of your landscape. Mix them with other shrubs, perennials and annuals to extend the color, increase texture and add year round interest in mixed borders. Plant a few in a container to bring a bit of the garden to your patio, deck or balcony.
Annabelle-type hydrangeas (Hydrangea arborescens), often called snowball, smooth or Hills of Snow hydrangea, have long been favorite shrubs for shady spots in the landscape. Their large white blooms brighten the summer landscape and they combine nicely with other shade plants like hostas, ferns and astilbes. You can grow them in full sun as long as the soil is kept moist. Extend your enjoyment by leaving the dried flowers on the plants for a bit of winter interest.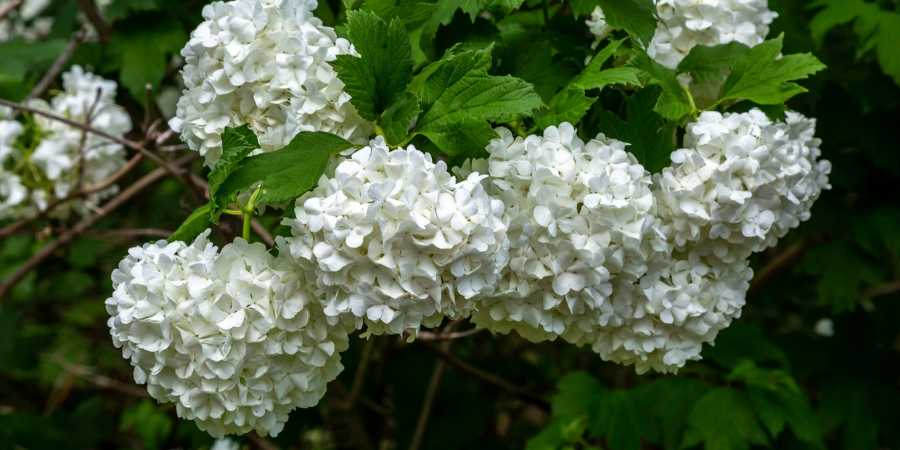 (Image: Anabelle/Snowball)
Add some color with Invincibelle® Spirit II and Invincibelle® Ruby. These Annabelle-type hydrangeas produce large pink flowers no matter the soil pH. Invincibelle® Spirit II is an improvement on the original introduction boasting the same large pink flowers but stiffer stems. Invincibelle® Ruby has burgundy flower buds that open to bright ruby red and pink flowers. Grow these in full sun for the best color and care for them as you would other Annabelle-type hydrangeas.
Incrediball® and Incrediball® Blush are Annabelle-types with huge flowers nearly the size of basketballs. Their sturdy stems hold the blossoms high and prevent flopping. Incrediball® has pure white flowers that age to a jade green while Incrediball® Blush has silvery pink blooms. Grow these in full to partial sun,
Invincibelle Wee White® is a recent introduction. This small scale Annabelle-type hydrangea only grows up to 2 ½ feet tall and 3 feet wide. Its small size makes it perfect for a perennial garden, container or any small spot in need of summer color.
Annabelle-type hydrangeas bloom on new growth. You can prune them anytime during the dormant season. Some people prefer a neat and tidy winter garden and cut them back in fall. I prefer to leave them stand for a bit of winter interest and prune in late winter or early spring before new growth begins.
Cut the stems back to about 15 inches and prune about half of these to the ground. This method encourages more compact sturdier growth. You can cut the whole plant back to the ground each year. The result is a taller floppier plant.
Fertilize hydrangeas with Milorganite in early spring to improve flowering. Just sprinkle a cup of Milorganite over the soil surface or mulch around each shrub. Use a hoe to lightly move it through the mulch, if needed, and mix it into the soil surface. No need to water the microorganisms will do the rest.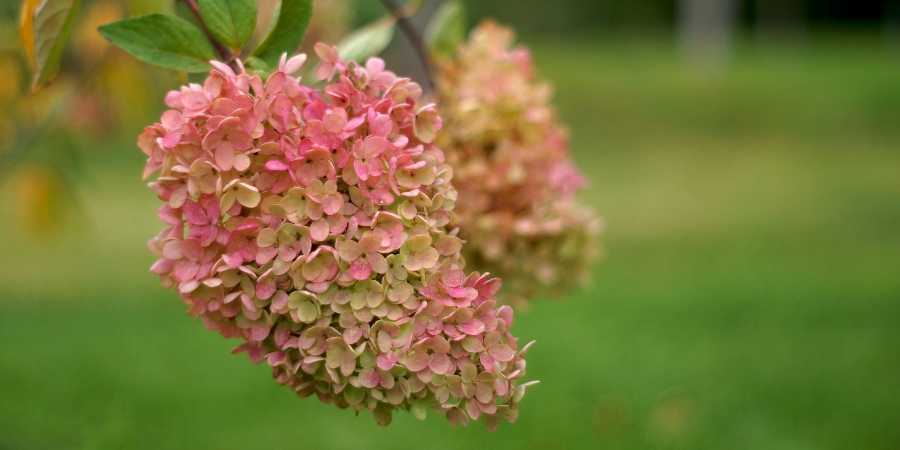 (Image: Panicle)
The panicle hydrangeas (Hydrangea paniculata) with their large cone shaped flowers have taken center stage as many new introductions fill garden centers each year. These hardy, drought tolerant shrubs range in size from 3 to 8 feet tall. They tolerate some shade but perform best in full sun. They make an excellent hedge or screen, focal point, backdrop in a mixed border or addition to containers. Mix them with other plants for added summer and fall color.
Limelight with its large chartreuse flowers that age to pink, red or burgundy is one of the most popular cultivars. We planted this in the main garden at the Wisconsin State Fair Energy Park where I speak each year. It receives lots of attention with visitors asking about its identity so they can add it to their own landscape.
But Limelight is big, up to 8 feet tall, and some gardeners failed to check the tag before placing it in their gardens. A shorter version of Limelight, Little Lime®, along with other shorter varieties like Little Lamb, Little Quick Fire®, Pinkie Winky® and Strawberry Sundae™ are a better size for many home gardens. The even smaller Bobo® at 3 feet tall makes a great container plant, addition to the perennial garden or edging plant at the front of the shrub border.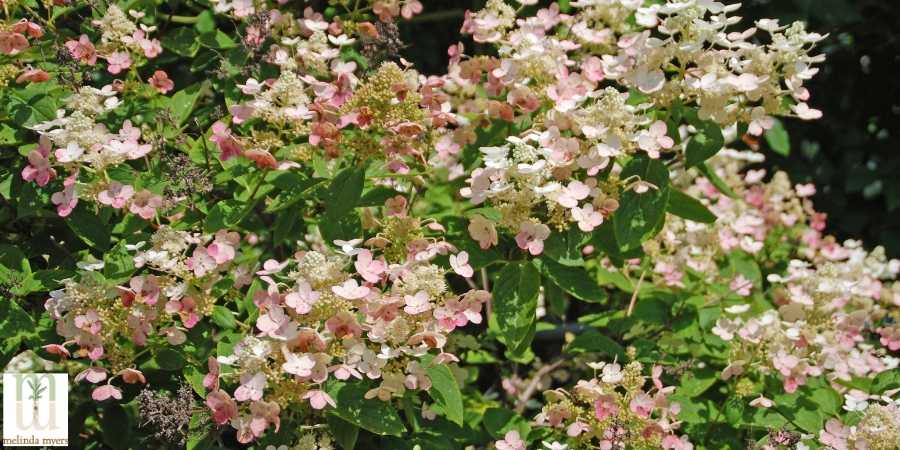 (Image: Little Quick Fire®)
Panicle hydrangeas like Annabelle-types bloom on new growth. These need very little pruning. Thinning the plants to 5 to 10 main shoots will encourage larger flowers. Severely reducing the overall size of the plant can result in weak floppy growth. Prune in late winter, after the worst of winter weather has passed and only if needed.
Bigleaf hydrangeas (Hydrangea macrophylla) boast large pink and blue flowers that decorate many southern gardens. These hydrangeas form their flower buds on the previous season's growth. The blossoms will be pink in alkaline (high pH) soils and blue in acidic (low pH) soils. You can try to change pink blooms to blue in alkaline soil with the addition of aluminum sulfate. It takes several applications spring through early summer each year. Be sure to read and follow label directions.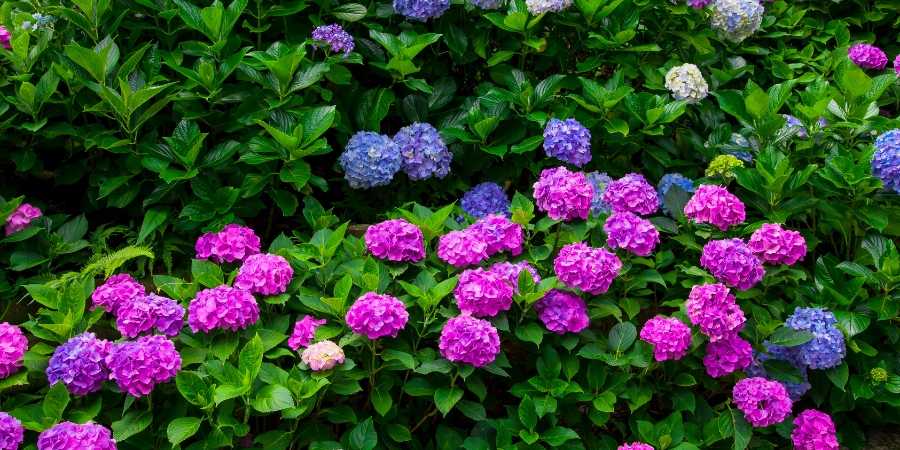 (Image: Bigleaf)
Use these colorful beauties in flowerbeds, mixed borders or containers. They grow 3 to 6 feet tall & wide and perform best in moist soil and full sun with some afternoon shade.
These plants need very little pruning. And if you prune anytime other than right after flowering you will reduce, possibly eliminate next year's blossoms.
In the north, nature often does the pruning. Unfortunately it is too severe and at the wrong time of year. Bigleaf hydrangea stems, flower buds and all, usually die back to ground level each winter. This results in a shrub of beautiful leaves and stems but no flowers.
Repeat blooming varieties like Endless Summer flower on old and new growth. They were introduced to increase the bloom time in southern gardens and the odds of northern gardeners having flowers. Unfortunately northern gardeners expectations have been greater than most repeat bloomers have performed.
Increase flowering by fertilizing with Milorganite in early spring. The low nitrogen slow-release fertilizer is well suited for all bigleaf hydrangeas. Plus as the microorganisms release the nutrients from the Milorganite some of the phosphorus and potassium bound to the soil is make available to the plants. This along with the phosphorus in the Milorganite promotes flowering. Keep the soil moist, not wet, from spring throughout the growing season and you should see improved flowering.
I have recommended fertilizing repeat blooming bigleaf hydrangeas with Milorganite to hundreds of northern gardeners. I have received lots of positive feedback from those who followed this advice. Northern gardeners also need to realize we won't be able to grow as magnificent of bigleaf hydrangeas as our southern friends, but we can improve flowering and enjoy this southern beauty.
Mountain Hydrangea (Hydrangea serrata), as the name implies, is native to higher elevations than the bigleaf hydrangea. It is reported to be hardier and a bit more reliable bloomer for northern gardeners. Those like the Tuff Stuff™ series bloom on old and new wood so treat it as you would a repeat blooming bigleaf hydrangeas.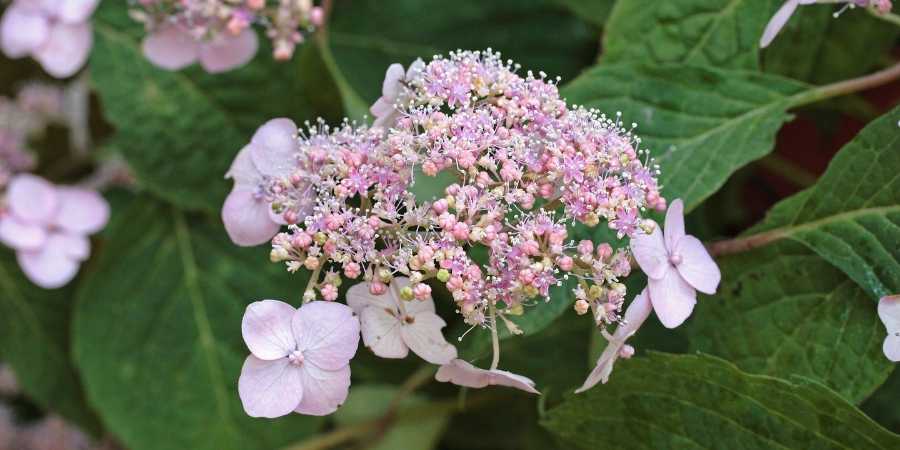 (Image: Serrata/Mountain)
Add year round beauty to your landscape with Oakleaf hydrangea (Hydrangea quercifolia). Conical shaped flowers top oak leaf shaped leaves that turn a beautiful mix of bronze, maroon and purple in the fall. Once the leaves drop they expose a beautiful cinnamon colored exfoliating bark.
Grow these as a specimen, hedge or in a mixed border in full sun or partial shade. Oakleaf hydrangeas bloom on the previous season's growth so keep pruning to a minimum. Remove only dead wood and if you need to reduce the size, do so right after flowering.
There are tall varieties like Alice and Snowflake that grow 5 to 8 feet tall and wide. Their white flowers fade from white to pink and then brown much like the panicle hydrangeas. Ruby Slippers is a bit shorter, 3 to 4' tall, and its white flowers fade to a deep rose. For those smaller spots try PeeWee or Sikes Dwarf at 2 to 3' tall and wide.
Boost your landscape's beauty with one of more of these hydrangeas. Fill a partially shaded spot with an oakleaf or Annabelle hydrangea, add a bit of summer bloom to a sunny mixed border with panicle or bigleaf hydrangeas or create a new garden bed so you have plenty of room for your favorites. And small space gardeners, you can grow one in a container to dress up your patio, balcony or deck.